Wood carving made the Val Gardena popular beyond borders. Today handmade artworks are protected by a quality seal
Image gallery:
Wood carving
Wood carving in Val Gardena boasts a rich tradition and dates back to the beginnings of the 17th century. Until 100 years ago, Val Gardena was an isolated high-altitude valley, which was fairly difficult to access. And as the winter seasons were long and cold, the local people had to look for a useful and reasonable activity. So they dedicated themselves to the art of wood carving and in summer they sold what they had carefully produced during the long wintertime. Out of necessity a refined art handicraft had developed.
In the 18th century wood carving was already the main source of income in the Val Gardena valley. There were already more than 40 wood carvers at that time, when also the wood carver's school opened. The valley became more accessible and so the special artwork could reach a wider audience.
The handicrafts of the Val Gardena, like angels, Madonnas, crucifixes or cribs are high quality artworks and protected with the Val Gardena quality seal which proves the genuineness of the products.




Recommended wood carvers: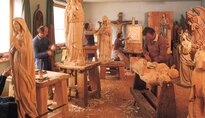 Giuseppe Stuflesser Ars Sacra

Statues for churches, monasteries and pilgrimage sites
E-Mail Homepage